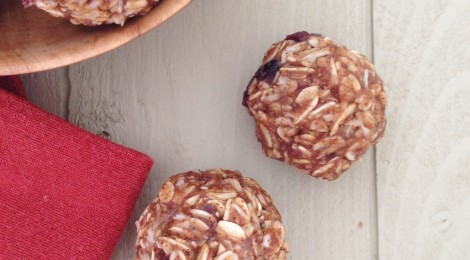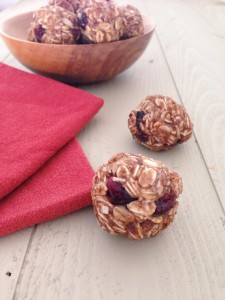 Well hello September, where did you come from??
With the long weekend just ahead of us it is hard to deny that school day routines will start up once again. Perhaps this is a good news/ bad news kind of thing?? For some this means that one of the challenges that lie ahead is coming up with simple, nutritious eats that the kiddies will devour. Wishful thinking you might say? Let's tackle this together!
Where to start….why at the beginning of course 🙂
Breakfast can be challenging and time is of the essence. Between that necessary cup-o-coffee, packing lunches, and waking those sleepyheads it is hard to resist that go-to bowl of dry sugary cereal. But let's face it, we know little one's brains (heck even big one's brains for that matter) need
more nourishment too function optmally than those little o's.
i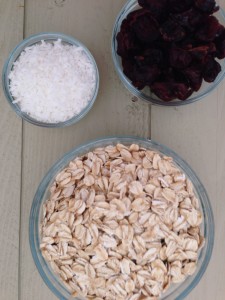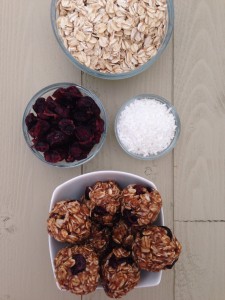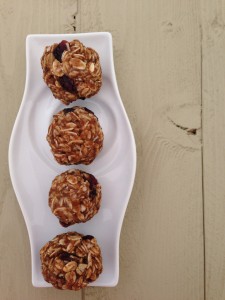 Try these breakfast bites on for size…think bowl of oatmeal meets peanut butter cookie all rolled into one (minus the baking, flour and extra fat of course). These bites are perfect for these hot days, who wants to turn on an oven?? But really, these little gems are perfect for any day…breakfast, snack, whenever! Flavour combinations abound, tap into your perhaps underutilized (?) imagination, or better yet solicit ideas and help from the little people in your house. Whip these up the night before and enjoy the ease of breakfast the next morning.
Add a glass of milk and a few slices of fresh fruit to a couple of these breakfast bites and those hungry minds will be ready to seize the day, nourished purely.
Sue xo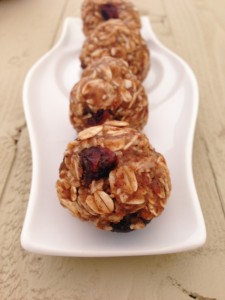 Coconut Cranberry Breakfast Bites
2015-09-02 11:46:47
Serves 4
Ingredients
1 1/4 cups large flake oats
1/2 cup natural peanut butter (or your favourite nut butter)
1/4 cup Ontario honey
1/4 cup dried cranberries
2 Tbsp flaked cocunut
1 Tbsp ground flax
2 Tbsp almond milk
1 tsp cinnamon
1 tsp chia seeds
Instructions
Combine all ingredients in a large bowl
Refrigerate for 30 minutes
Scoop and roll 2 Tbsp portions (or however big you want the bites to be)
Refrigerate until ready to eat
http://www.nourishedpurely.ca/