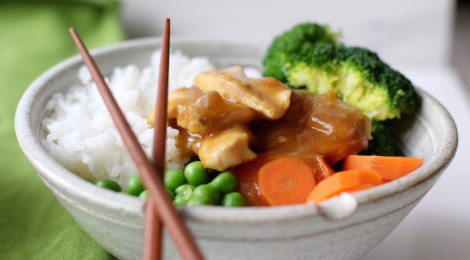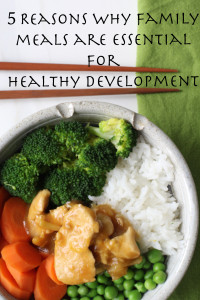 Family meals. Is this fact or fiction for you? Todays families function at a much faster pace than generations past. In our world of technology, information overload (is there anything we haven't googled?) and the apparent desire for constant stimulation we sometimes need to be reminded to slow down and make time to nurture our face to face relationships. It can be as simple as sitting down as a family and eating dinner together, yes that simple! Studies done over the last 10 years have demonstrated that family dinners are an important part of healthy living. The effects on kids are positive and statistically significant as are the effects on adult family members too.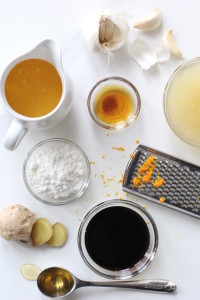 With the incredibly busy schedules that families keep today, between the skating practises, hockey games, ski lessons, ballet class, music lessons, board meetings, and work schedules it is easy to see how for some, family mealtime has slipped by the wayside. The importance that these meals carry in terms of healthy lifestyle development in children seems to be ever increasing as the health of todays kids are constantly put into question. Although these studies have been challenged with trying to tease apart and isolate the effects of family meals from other factors, there seems to be a general acknowledgement that family mealtime can lead to these five benefits in children's development:
1) Develop better eating habits
2) Achieve better grades
3) Less likely to be overweight or obese
4) Have better mental health
5) Have lower rates of substance use
Kids today are bombarded with temptations to eat foods that are severely lacking in the nutrition department; tasty they would argue yes, but nutrient rich no. Studies suggest that it is during family meals that kids develop better eating habits, start to nurture an interest in nutrition and healthy eating, decrease their odds of eating unhealthy foods and on the flip side increase their odds of choosing to eat healthy, good-for-us foods (Hammons and Fiese 2011, Musick and Meier 2012, Nassaur 2014). Really, it can be as simple as sitting down to a homemade stew that can be the building blocks for your child's path of nutritional wellness.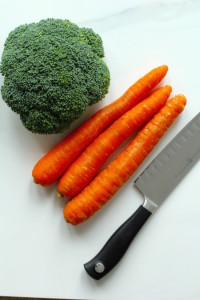 Want to help your child do well at school? Of course! Start with sitting down to family meals 3-7 times a week! Yes. really! Studies indicate that when families eat together children are more likely to get better grades and higher academic achievement (or they also state are less likely to get low grade point averages, that's science for you, ha!) (Eisenberg et al. 2004, Musick and Meier 2012, Nassaur 2014). If you're going to do it, you have to do it right though. If you can only manage to come together for three or fewer family meals a week, that isn't going to cut it. The highest positive effects are seen when families gather for 5-7 meals a week (Musick and Meier 2012).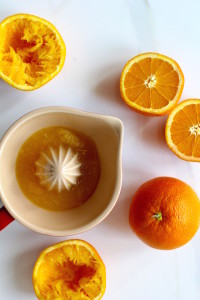 Want to help your kids avoid the need for fad diets, weight loss gimmicks, and emotional angst in years to come? Naturally, of course you do! Start them off on the right foot by engaging in family meals 5-7 times a week. Easy! Kids who ate regular (5-7 times a week) family meals are more likely to have a healthier body weight and have lower rates of obesity (Hammons and Fiese 2011, Musick and Meier 2012, Nassaur 2014). The effects of family meal time on achieving a healthy body weight can even trickle down into family breakfasts. If you are really having a hard time working around schedules one week, sit down for a family breakfast (doesn't have to be long) before heading out to work and school for the day (Nassaur 2014). One study suggested that the lack of engagement in family meals can even lead to future food insecurities (Fulkerso et al 2009). It is during these times that parents and guardians have the opportunity to positively influence behaviour and development. Let's get cooking!!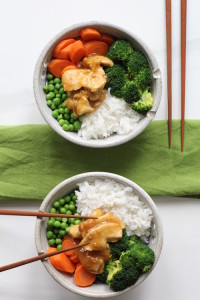 Did you know that frequent and regular family meals can lead to better mental health in kids?? Studies have shown that when families sit down to dinner together at least 5 times a week, children have fewer metal health problems, better psychological well being and more happiness (Musick and Meier 2012, Nassaur 2014). Family meal frequency has also been related specifically to fewer depressive symptoms and suicide involvement (Eisenberg et al. 2004). These meal times nurture feelings of closeness and comfort (Cook and Dunifon 2012) and more generally provide time for families to sit down and talk about the day and to discover what is going on in each others lives.
How can you help curb the likelihood of substance use as your kids get older? You guessed it…start with sitting down nightly to a family dinner! Literature shows that teens who share family meals have lower risk of substance abuse (smoking, drinking and marijuana use) and delinquency (Eisenberg et al. 2004, Musick and Meier 2012). These same studies show that teens who ate less than 3 family dinners a week were twice as likely to smoke and drink as teens who ate 5-7 family dinners a week (Musick and Meier 2012).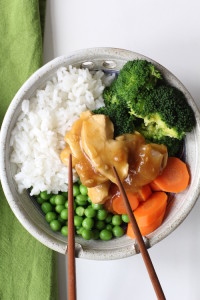 If anyone needed encouragement to carve out time in everyone's busy schedule for some family time these five points can definitely provide that! With a little time invested to prepare and cook a meal families can find time to unwind and re-connect. Maybe you need to set a goal, a collective goal to sit down together at least three times a week, turn off the TV and cell phones and actually talk. Ask questions about each others day, about school, about friends, about goals etc. Nurture those feelings of closeness and comfort that will set the next generation, your kids, up for a healthy future!
If you need some dinnertime inspiration check out this weeks recipe. It is sure to be a winner with the whole fam…..Orange Ginger Chicken Stir-fry. Served over brown rice it packs a nutritional punch with lots of protein, iron, calcium, potassium, manganese, vitamins A, C, and K just to name a few. This is easy to make and comes together quickly for a fast and convenient weekday dinner. Enjoy this at the family dinner table, and be Nourished Purely.
Sue
xxoo
Orange Ginger Chicken Stir-fry
2016-02-13 19:07:53
Serves 4
Marinade & Sauce
1/2 cup chicken stock & 2 Tbsp corn starch whisked together
1/2 cup orange juice
3 Tbsp sodium reduced soy sauce
3 cloves garlic, chopped
1 Tbsp orange zest
1 Tbsp minced ginger
2 tsp sesame oil
2 Tbsp Ontario honey
Stir-fry
1 lb boneless, skinless chicken thighs, sliced
1 cup Ontario peas
2 peeled and sliced Ontario carrots
3 cups Ontario broccoli florets
Instructions
Add 1/4 of the marinade to a bowl and toss the chicken to coat
Marinate in the fridge for 30 mins
In heavy bottom pan steam carrots and broccoli for 2 mins
In saute pan heat 1 1/2 Tbsp extra virgin olive oil over medium high heat
Saute onions for 1 min
Add chicken and saute for about 3 mins
Add reserved marinade and cook 3 mins or until starts to thicken
Stir in vegetables and cook another minute or until chicken is cooked through
Serve over hot rice
http://www.nourishedpurely.ca/
Literature Cited
S. Nassaur. No time for family dinner? Try breakfast. The Wall Street Journal. November 18 2014
Eisenberg, M.E., R.E. Olson, D. Neumark-Sztainer, M. Story, L.H. Beringer. Correlations between family meals and psychosocial well-being among adolescents. Arch. Podiatry. Odalisk. Med. 2004 Aug; 158(8): 792-796
Musick, K. and A. Meier. Assessing causality and persistence in associations between family dinners and adolescent well-being. Journal Marriage Fam. 2012 Jun1; 74(3): 476-493.
Fulkerso, J.A., M.Y. Kubik, M. Story, L. Lytle, C. Arcan. Are there nutritional and other benefits associated with family meals among at risk youth? J. Adolesc. health 2009 Oct; 45(4): 389-395.
Hammons, A. and B. Fiese. Is frequency pf shared family meals related to the nutritional health of children and adolescents? Paediatrics 2011 Jun; 127(6): e1565-e1574.
Cook, E. and R. Dunifon. Do family meals really make a difference? Cornell University, College of Human Ecology. 2012