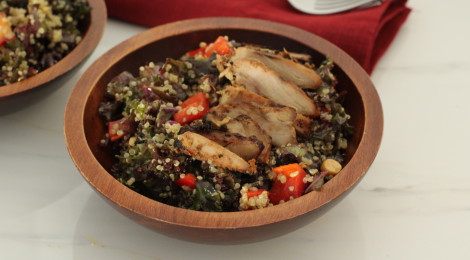 As much as I love salads, especially on those hazy days of summer when it is just too darn hot to even think about turning the stove on, now that September is here and there is a clear crispness in the air (no I am not trying to rain on your parade) I am wanting a bit more oomph to those clean, fresh salads of summer.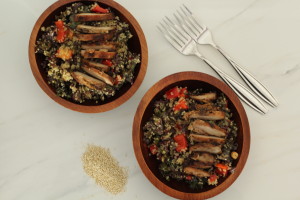 Yes, there is definitely seasonality to salads….wouldn't you agree?? We adapt (or at least I do, hello local produce!) our inclusions to reflect the changing produce availability and the slowly dropping temperatures. I see it like the changing of our wardrobes. We start to later, pull out the pants and sweaters, change over the coats……it can be, and fingers crossed that it is, a slow process….we all try to hard to hold onto those barefoot and flipflop days. While I am not ready to give up my sandals just yet, I will concede to start layering. This salad is delicious! The airiness of kale is layer with the substance and crunch of quinoa, and throw in some red peppers to bring out the colours of September. I added some barbequed, miso glazed chicken, I love that hint of smokiness to remind me that, nope these beautiful days of summer aren't over yet!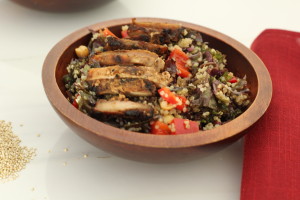 The miso glaze that I used is a recipe from Bobby Flay and is so tastey as a marinade and glaze for chicken thighs. Done on the BBQ this chicken is perfect and so convenient for lunches so make extra and top salads or make some fabulous chicken sammie with it.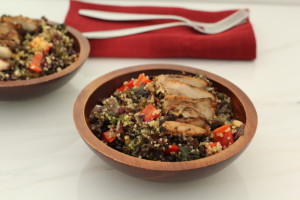 I dressed my salad with a roasted garlic dressing (which is so yummy I must say) that I made, but an asian inspired dressing would hit the spot here too.
Packed with protein, vitamins A, C, K, calcium and potassium this salad is a definite winner for lunch today!
Sue xo
Miso Chicken Salad
2015-09-14 14:00:36
Serves 3
Salad
3 cups Ontario kale, washed & chopped
1 cup cooked quinoa
1 Ontario red pepper, chopped
1 1/2 miso glazed chicken, cooked & chopped
1/4 cup Ontario peanuts, roughly chopped
salt & pepper to taste
Roasted Garlic Dressing
1 head of garlic, roasted & cooled
2 Tbsp extra-virgin olive oil
1 Tbsp fresh lemon juice
1 Tbsp white balsamic vinegar
1 tsp Dijon mustard
1 tsp thyme leaves
1 tsp minced rosemary
6 Tbsp extra virgin olive oil
Miso Glaze (Bobby Flay)
1 1/2 Tbsp ginger, finely chopped
2 green onions, chopped
1/4 cup white wine
2 Tbsp soy sauce
1/4 cup white miso
pepper
2 Tbsp rice vinegar, unseasoned
2 tsp sesame oil
16 boneless, skinless chicken thighs
Miso Chicken
Combine all marinade ingredients and put 3/4 of it on chicken
Marinate in fridge for at least an hour
Heat grill to medium high, remove chicken from marinade and discard that marinade
Grill chicken until juices run clear, baste with the remaining fresh marinade
Cool and cut chicken into strips
Dressing
Combine roasted garlic with 2 Tbsp olive oil, mash and then combine rest of ingredients, whisk thoroughly
Use immediately or refrigerate
Salad
In large bowl combine all ingredients, toss to combine
Add desired amount of dressing (~1/4 cup) and toss to combine
http://www.nourishedpurely.ca/