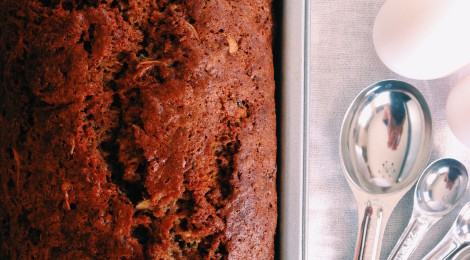 Those who grow it are probably pulling their hair out right about now. I wish I had that problem (maybe one day!). For now I will depend on those overflowing baskets of zucchini looking for a good home at the farmers market 😉 I am happy to oblige as I just love the versatility of this prolific vegetable (hello zucchini bread!).
Filled with vitamin A and C as well as phosphorus and potassium, zucchini is known to aid in eye and bone health, collagen production, and immune and organ function.
It is thought to be native to the America's and found its way to Europe as the explorers returned home.
Today you can find recipes that use zucchini for pickling, frying, grilling, baking, stuffing and sautéing. Whatever floats your boat, whatever strikes your fancy, do some searching an find a recipe that calls your name! To help you get started you can check out the links to these images or try my zucchini bread recipe.
.
Ingredients
2 eggs
1/2 cup melted coconut oil
1/2 cup sugar
1/2 cup honey
2 cups zucchini, grated
2 tsp vanilla
2 cups all-purpose flour
1/4 tsp baking powder
2 tsp baking soda
3 tsp cinnamon
2 Tbsp ground flax seed
1 cup raisins
Beat eggs lightly in a large bowl.
Stir in oil, sugar, honey, zucchini, and vanilla.
In separate bowl whisk together dry ingredients.
Stir dry ingredients into egg mixture until just combined.
Stir in raisins.
Pour into greased loaf pan and bake at 325 for about an hour (or until toothpick comes out clean)
Nourished Purely 2015